ANALISIS KUALITAS INFORMASI AKUNTANSI MELALUI PENDEKATAN TEORI INSTITUSIONAL ISOMORFISME
Dwi Winarni

Universitas Muhammadiyah Purwokerto

Luthfi Zamakhsyari

Universitas Muhammadiyah Purwokerto
Keywords:
Quality of Accounting Information, Institutional Isomorphism, Regulation, Management Commitment, Human Resources
Abstract
Changes to a system within the organization are carried out simply to get recognition or awards rather than to improve performance substantively. Performance reports that have been made by government agencies are only meant to fulfill regulatory and regulatory requirements and do not reflect the performance that occurs in the field. This study examines and analyzes how local governments improve the quality of accounting information in terms of institutional isomorphism theory. The research method used is a qualitative method so that it can explore and understand the data in more depth. The local government in Indonesia was chosen as the object of research because it has a characteristic in the current application of New Public Management (NPM). The analysis was carried out using three indicators that describe institutional isomorphism (coercive, mimetic, and normative). The results show that regulation, management commitment, and human resource competence have a positive impact on the implementation of the preparation of financial statements according to standards and the quality of accounting information produced.
Downloads
Download data is not yet available.
References
Adhikari, P., & Mellemvik, F. (2011). The rise and fall of accruals: a case of Nepalese central government. Journal of Accounting in Emerging Economies, 1(2), 123–143. https://doi.org/10.1108/20421161111138495
Akbar, R. (2011). Performance Measurement and Accountability in Indonesian Local Government, 1–24.
Akbar, R., Pilcher, R., & Perrin, B. (2012). Performance measurement in Indonesia: the case of local government. Pacific Accounting Review (Vol. 24). https://doi.org/10.1108/01140581211283878
Akbar, R., Pilcher, R., Perrin, B., Pilcher, R., & Perrin, B. (2012). Performance measurement in Indonesia : the case of local government. https://doi.org/10.1108/01140581211283878
Ashworth, R., Boyne, G., & Delbridge, R. (2007). Escape from the iron cage? Organizational change and isomorphic pressures in the public sector. Journal of Public Administration Research and Theory, 19(1), 165–187. https://doi.org/10.1093/jopart/mum038
Braun, V., & Clarke, V. (2013). Using thematic analysis in psychology,Qualitative Research in Psychology. Journal of Chemical Information and Modeling, 3(2), 77–101. Retrieved from http://dx.doi.org/10.1191/1478088706qp063oa
Brignall, S., & Modell, S. (2000). An institutional perspective on performance measurement and management in the "new public sector." Management Accounting Research, 11(3), 281–306. https://doi.org/10.1006/mare.2000.0136
Dacin, T., & Delios, A. (2005). Editors' introduction: Special issue on networks in Asia pacific business. Asia Pacific Journal of Management, 22(4), 315–320. https://doi.org/10.1007/s10490-005-4112-1
DiMaggio, P., & Powell, W. (1983). The Iron Cage Revisited : Institutional Isomorphism and Collective Rationality in Organizational Fields Author ( s ): Paul J . DiMaggio and Walter W . Powell Source : American Sociological Review , Vol . 48 , No . 2 ( Apr ., 1983 ), pp . 147-160 Published. American Sociological Review, 48(2), 147–160.
Dull, M. (2009). Results-model reform leadership: Questions of credible commitment. Journal of Public Administration Research and Theory, 19(2), 255–284. https://doi.org/10.1093/jopart/mum043
Fardian, D. (2014). PENGARUH FAKTOR POLITIK, KETIDAKPASTIAN LINGKUNGAN DAN KOMPETENSI SUMBER DAYA MANUSIA TERHADAP PENERAPAN TRANSPARANSI PELAPORAN KEUANGAN (Studi Empiris atas SKPD Pemerintah Kota Padang). Jurnal Akuntansi, 3(1), 1–18. Retrieved from http://ejournal.unp.ac.id/students/index.php/akt/article/view/1525
Frumkin, P., & Galaskiewicz, J. (2004). Institutional isomorphism and public sector organizations. Journal of Public Administration Research and Theory, 14(3), 283–307. https://doi.org/10.1093/jopart/muh028
Ikhsan, M., & Sari, V. F. (2020). Pengaruh Pengetahuan Peraturan, Komitmen Manajemen, Dan Lingkungan Birokrasi Terhadap Penyerapan Anggaran Terkait Pengadaan Barang/Jasa (Studi Kasus Pada Satuan Kerja Perangkat Daerah di Kota Padang). Jurnal Eksplorasi Akuntansi (JEA), 2(4), 3705–3719.
Mbelwa, L. (2015). Factors Influencing The Use Of Accounting Information In Tanzanian Local Government Authorities (LGAS): An Institutional Theory Approach. The Public Sector Accounting, Accountability and Auditing in Emerging Economies, 15, 143–177. https://doi.org/10.1108/S1479-356320150000015001
Morgan, Amy J. &Inks, S. A. (2001). Technology and the Sales Force Increasing Acceptance of Sales Force Automation. Industrial Marketing Management, 463–472. https://doi.org/10.1016/S0019-8501(99)00115-7
Moynihan, D. P., & Pandey, S. K. (2010). The big question for performance management: Why do managers use performance information? Journal of Public Administration Research and Theory, 20(4), 849–866. https://doi.org/10.1093/jopart/muq004
Muhammad Ahyaruddin, & Akbar, R. (2016). Akuntabilitas dan Kinerja Instansi Pemerintah dalam Perspektif Teori Institusional. 1th Celscitech, 1(2009), 39–45.
Nurdin, N., Stockdale, R., & Scheepers, H. (2012). The influence of external institutional pressures on local e-government adoption and implementation: A coercive perspective within an indonesian local e-government context. Lecture Notes in Computer Science (Including Subseries Lecture Notes in Artificial Intelligence and Lecture Notes in Bioinformatics), 7443 LNCS, 13–26. https://doi.org/10.1007/978-3-642-33489-4_2
Peraturan Pemerintah Nomor 71 Tahun 2010 tentang Standar Akuntansi Pemerintahan (SAP). (2010).
Suddaby, R. (2010). Challenges for institutional theory. Journal of Management Inquiry, 19(1), 14–20. https://doi.org/10.1177/1056492609347564
Talbot, C. (2008). Performance regimes - The institutional context of performance policies. International Journal of Public Administration, 31(14), 1569–1591. https://doi.org/10.1080/01900690802199437
Winarni, D., & Akbar, R. (2020). Faktor Tekanan Institusional Dalam Mempengaruhi Kualitas Informasi Akuntansi: Pendekatan Metoda Campuran. Jurnal Akuntansi, 15(1), 1–11. Retrieved from http://jurnal.unsil.ac.id/index.php/jak
Zhou, L. (2010). The Research on Issue and Countermeasures of Accounting Information of SMES. International Journal of Business and Management, 5(3), 223–225. https://doi.org/10.5539/ijbm.v5n3p223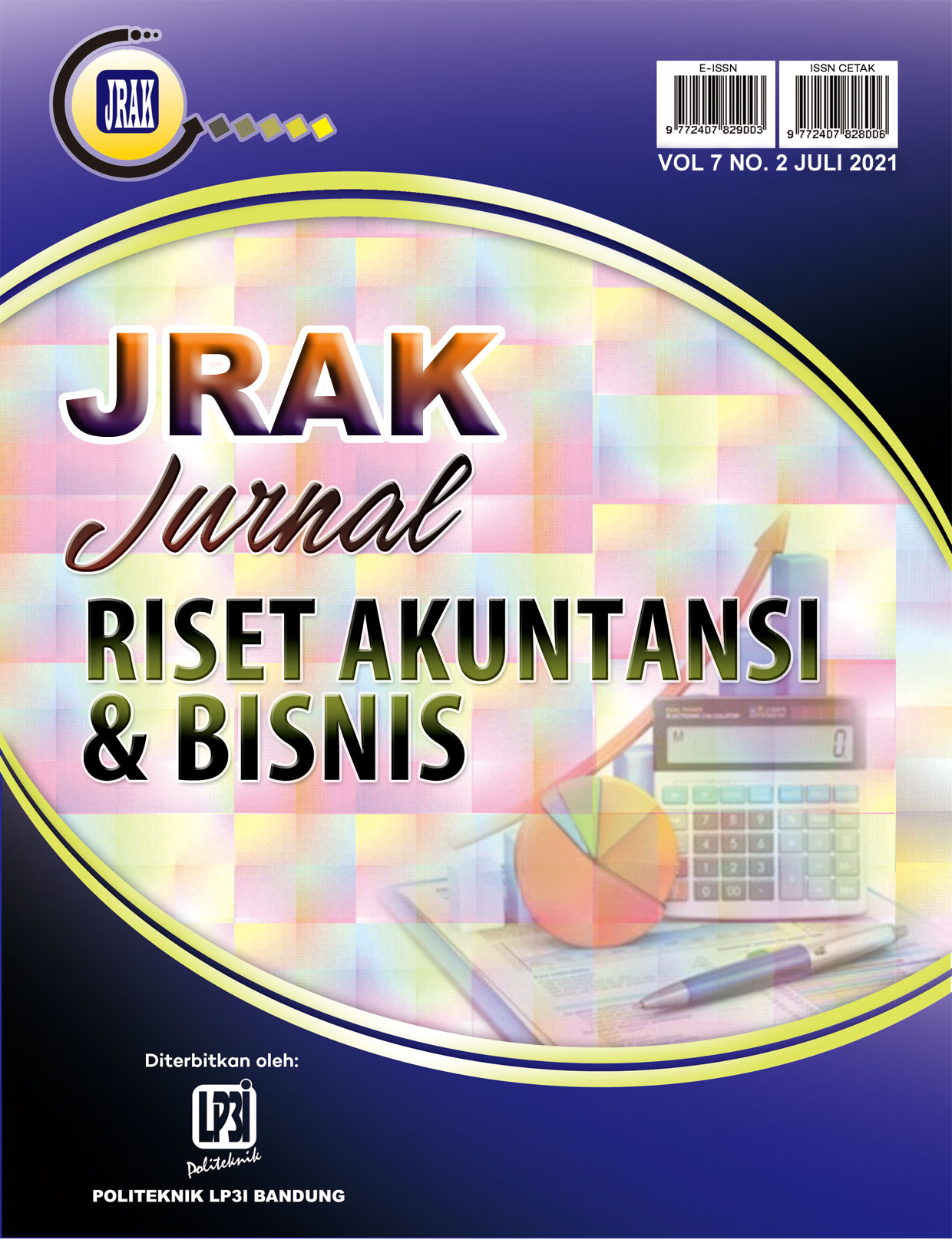 How to Cite
Winarni, D., & Zamakhsyari, L. (2021). ANALISIS KUALITAS INFORMASI AKUNTANSI MELALUI PENDEKATAN TEORI INSTITUSIONAL ISOMORFISME. JRAK (Jurnal Riset Akuntansi Dan Bisnis), 7(2), 37 - 46. https://doi.org/10.38204/jrak.v7i2.631